Sanaz Sohrabi's Mapmaking as Action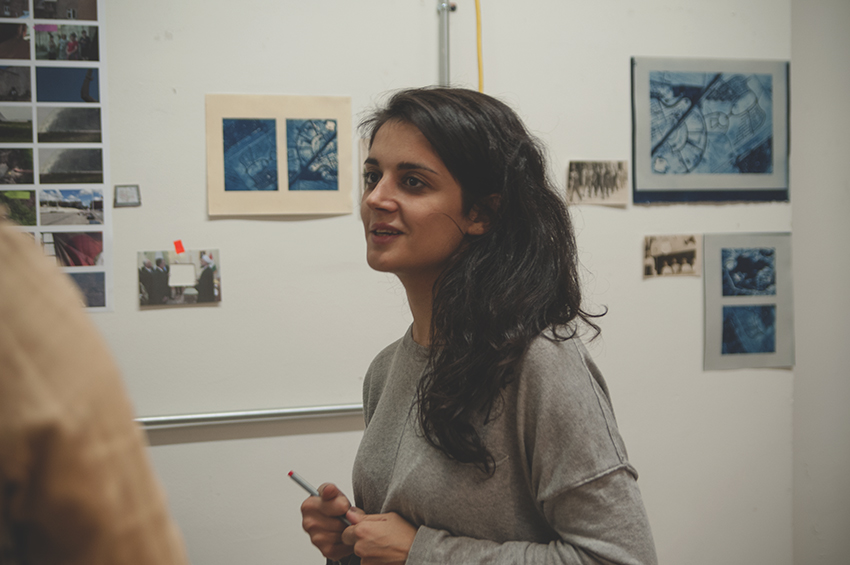 Initially drawn to staged photography while working in Iran, Sanaz translated her interest in narrative to the moving image after moving to the US, capturing bodies in action rather than those that were static and posed. Recently Sanaz's practice has begun to focus on government-based image making through cyanotypes and architectural memory through film, recently collecting footage for a project that will trace the complicated histories of several monuments erased by government forces.  
I\W: What has drawn you to the process and aesthetic of cyanotypes?
SS: Cyanotypes have a feeling of mapping and blueprints. Because of the process's chemical nature, the formula gets fixed by the UV light. I like to take images or screenshots from Google Maps and then make digital negatives from them. I use those negatives to make cyanotypes of the landscapes and spaces that are inaccessible for me. I am currently working on some cyanotypes on fabric. They are still in process, but they are from a drone video that Iran's military published that shows footage of a US aircraft carrier. When I first saw the videos, I was stunned by the visuals, as well as the aspect of surveillance in them. I am interested in the fact that military fetishism results in the production of imagery. I like to work with the available images and use them for another layer of image making while also theorizing each element.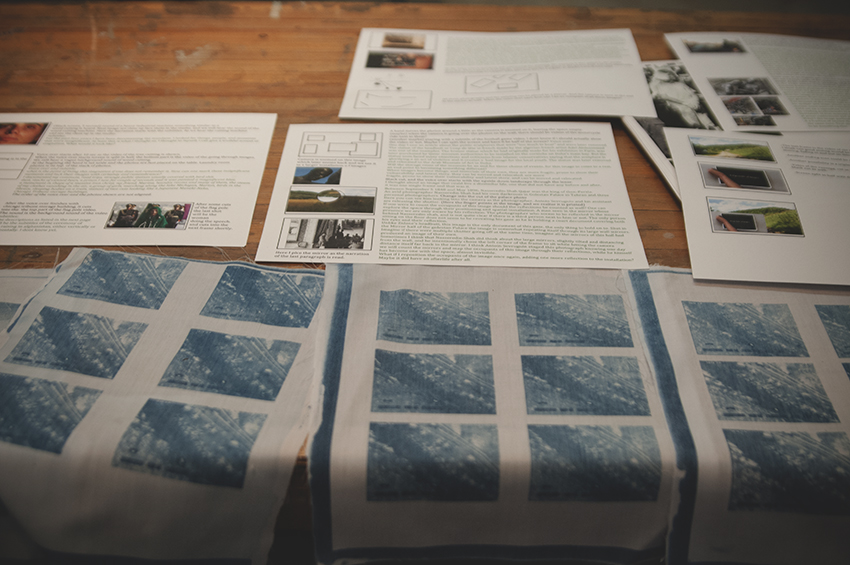 I\W: The work I am most familiar with of yours are videos. What first attracted you to film? Why did you decide to shift your photographic process to something that incorporated audio and movement?
When I first started photographing in Iran, I mainly did staged photography. I think that showed a desire for narration and story in my work. I really wanted to compose these scenes and have others perform in front of the camera for me. Then I thought that it was a little limiting—I couldn't change them afterwards. I then moved to performance, but was really bad at it, like really bad. I love working with bodies and live action, but it demands a certain type of personality that I tried to have, but didn't. I thought I might gain a bit more of that personality or patience in the future, so I took refuge in the moving image. I think I know that better, I feel more comfortable with the medium. In working with video you can add and edit—both the narrative and visual structure— while you are making and conceptualizing the work. Of course that is true with any kind of medium, but for me the narrative structure was more agile and less definitive while working with video compared to photography. I still take 35mm photos routinely. That process seems most natural for me, and satisfies my desire for thinking about what is capable or incapable in the frame.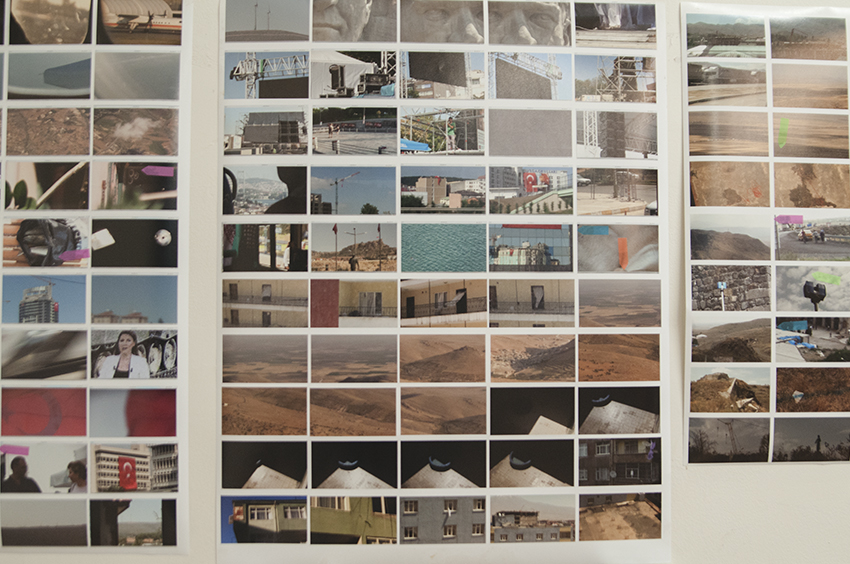 I\W: Has this moved to incorporating more writing in your work?
It was previously difficult for me to translate my thoughts into something that was understandable, or didn't bore the viewer. I think a lot of my work is very confusing, so I am trying to reduce it to a level of understandable communication. I was not sure how to incorporate text when I first came to the US, I also knew I would have to ask friends to help edit my work and go through my texts. Now I work with an editor which is actually very helpful and has opened up many different ways of looking at my writing. I am also trying to use that uncertainty of using direct text and the confusion of my writing in a meaningful way. My work at Chicago Artist Coalition was my transition from photo to doing more of a moving image. It incorporated text, a narrative structure, and a movement-based element.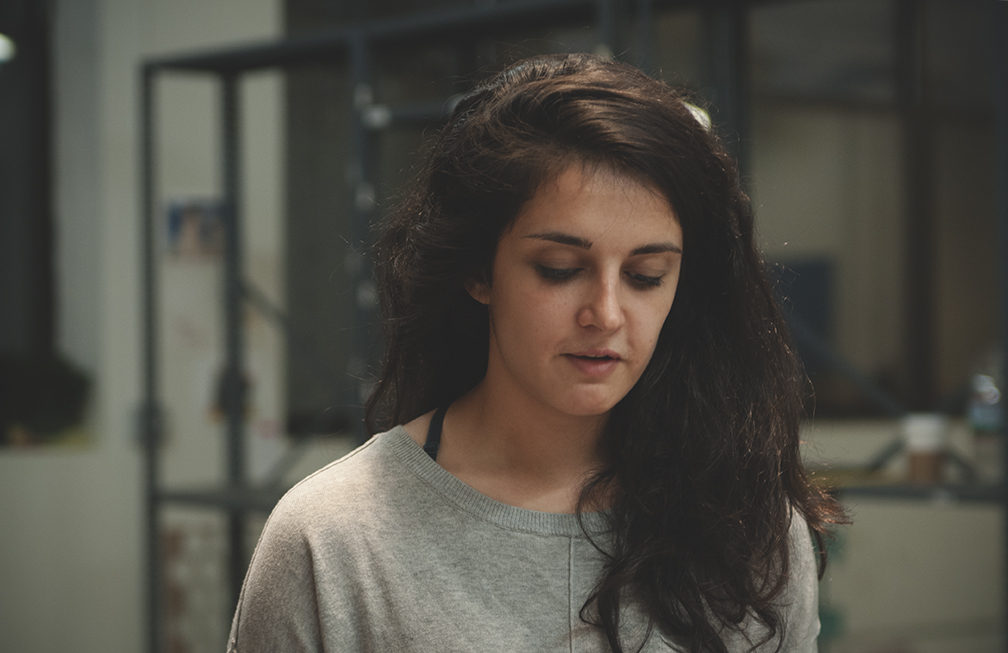 I\W: Your exhibition Spatial Agreements at CAC was deeply tied to memory found in architecture. How do you attempt to reconstruct that interest in your practice?
I explored this theme in my sculpture/installation of the now unoccupied Iran Embassy in Washington DC for that exhibition. The work started with my fascination with that building, or rather its vacancy, and the desire to go and film around the premises of its location. I was really keen on traveling to DC, but then I thought maybe I shouldn't go, stick to Google Maps, and explore the images that the public has uploaded of the building instead. The building was very functional and then really dysfunctional, yet it still has sentimental values. It was interesting to detach some of the nostalgic sentiments often attributed to this building. For me the physical materials of the building did not hold any memory. That is why the model was made with white office paper, a material that is rather harsh and cold.
I still take 35mm photos routinely. That process seems most natural for me, and satisfies my desire for thinking about what is capable or incapable in the frame.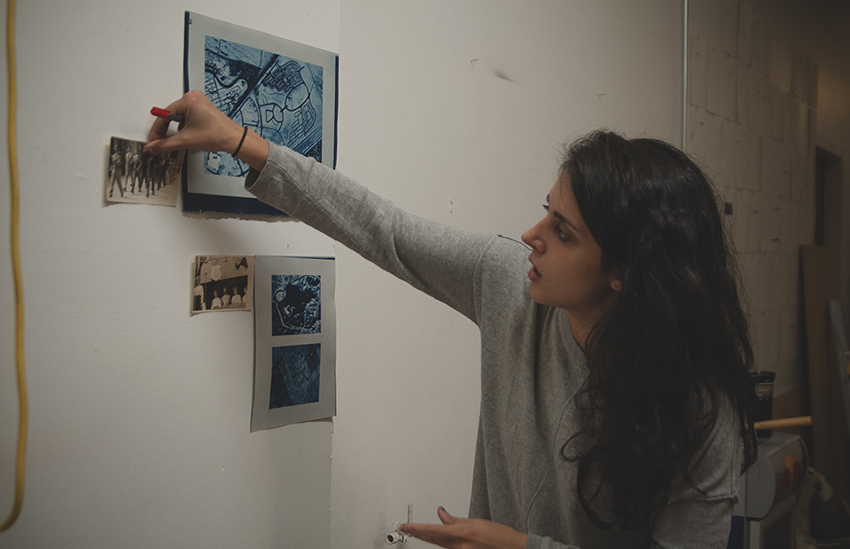 I\W: How have you incorporated this interest into recent projects?
I am currently working on a project with the working title of "Cartography of Three Monuments" with footage I collected this summer while traveling in Turkey, Georgia, and Armenia after attending the Est-Nord-Est residency in Quebec. I decided to travel to the site of three monuments and see how their lives have changed, or what has happened to them through the last sixty or so years. It is kind of a funny way of starting the project, but it was inspired by a photo of a diplomatic gift exchange in December 2015 when the Prime Minister of Hungary gifted an old map roughly depicting parts of the Ottoman, Persian, and Russian empire as well as parts of the Arabian peninsula to Iran's president. The map did not entirely illustrate Iran's borders at the time, but was falsely read this way. The map was formerly part of the national library of Hungary and was a very targeted gift because the general feeling of Iranian politics is that there is always a desire for referencing the former sovereign borders of Iran and how much of the neighboring lands used to be part of it—a feeling I call "false nationhood." I believe based on what I researched, the map actually dates back to around 1730, rather than the reported date of sometime in the 19th century. I was really fascinated by the photo and this whole diplomatic exchange. I wanted to penetrate it and find something related to the map and the false nationalistic feelings attached to it. During research I found that there were three different sets of monuments in Georgia, Turkey, and Armenia that were built, and then altered or completely demolished in the last 60 years. That became my starting point.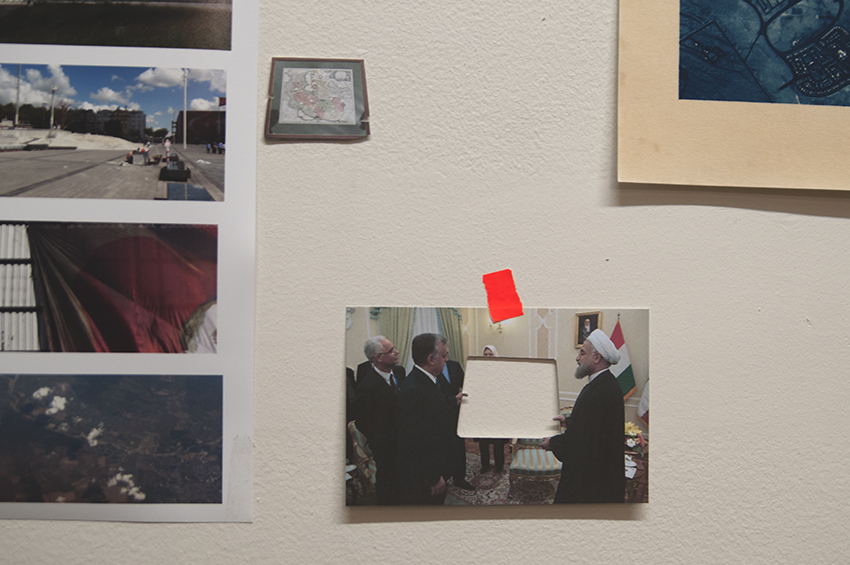 I\W: Could you explain which monuments you visited?
The first monument I was interested in was the Statue of Humanity that was built by a sculptor from Turkey, Mehmet Aksoy, in the city of Kars and was ordered to be demolished in 2011. It is now just an abandoned concrete base. Another one is Mother Armenia, a statue that replaced the statue of Stalin in 1962 in Yerevan, but its base remains the same. You can still see details from the previous monument. The last one was the Glory Memorial in the city of Kutaisi in Georgia which was a monument made out of concrete dedicated to the Russian soldiers that were killed in the World War II. In 2009 the Georgian government ordered to destroy the monument, and the Georgian parliament was built over it. It was after the recent Russo-Georgian War, so it was a nationalist gesture to remove the monument in an attempt to erase the Russian histories in Georgia.
I\W: How did you travel to each of these monuments? Was this traveling part of your planned work?
The trip was mainly done by public taxis and buses to visit the planned sites. I couldn't go to Turkey from Armenia. I had to go to Georgia and then come back to Armenia because the borders are closed. It became mapmaking in action. I wanted to document these monuments, but I couldn't go directly there. I had to figure out how to actually make it to each site in a roundabout way. My partner Patrick was a great help in figuring out the logistics of the travel as he works in Turkey during the summers. There are a lot of long shots of different landscapes along these countries' borders. I was really interested in getting continuous long shots which I will be editing into puzzled animation pieces as part of the longer narrative structure of the work. I am basically patching the landscape with multiple long shots which will be sewn together during post-production, landscapes which could not possibly exist together.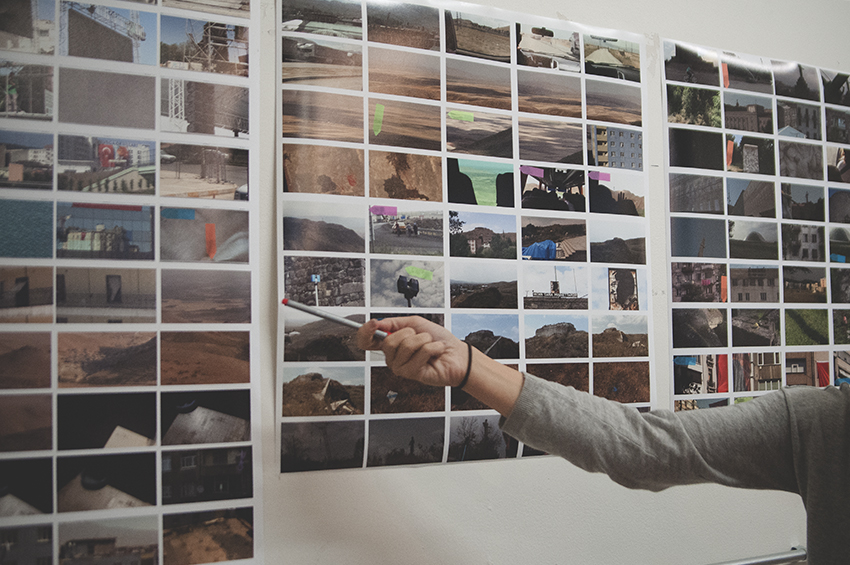 I\W: What were some of the motivations for starting the quarterly journal Tamaas?
Tamaas is an online journal which I work on it with my friend and collaborator Marina Miliou Theocharaki. We wanted an online platform that didn't needed a physical location or exhibition of some kind— but generates a small moment of contact between each two paired artists. Tamaas is a shared word between Arabic and Farsi, and it means the point or moment of touch or to touch. It is a quarterly journal and has a seasonal theme under which we work with artists and writers to show their work or make new work for our suggested theme. It includes video, text, photo, poetry, and we hope after some issues to maybe produce catalogues to make the work available offline.